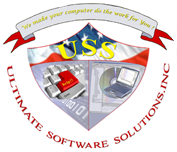 What is Ultimate Software Solutions Inc?
USS is a company specialized in creating personalized software for your personal and small business needs. We also repair and maintain all your hardware and computer network, including tune ups and virus cleaning, for a very low monthly fee, no matter what you are currently paying, we will beat the competition by at least 10%.
Our Team is proffessional, certified and available 24/7 to help you troubleshoot any issues thay may occur during your computer, network or software operations. We also provide on site service when required, no matter how far your home or office is located. We will cover you.


How do I order?
For questions or to schedule an appointment, please contact us at:
Tel.: (305) 815 - 4888
Email: contact@softok.us